4 Cures for an Ugly Driveway
How many times have you pulled up to someone's house and thought, "Yuck, this driveway is an eyesore. It ruins the look of their home!"
How many times have you thought that while approaching your own house?
Driveways are more than just parking places. They are a key element in the impression your home makes from the street and as guests arrive. Does your driveway enhance your property's curb appeal and provide a welcoming arrival experience? Or does it look like it was just plopped down in front of your house and has been deteriorating ever since?
If your driveway has you wincing when you return home—or worse, making excuses to your guests—it's time for some upgrades. A driveway full of pits, cracks, pot holes and rust stains needs to be replaced. It not only looks bad, it can be dangerous to your vehicle, your foundation, and your family. But even a driveway in good repair may benefit from design enhancements to create a more graceful path to your front door.
Imagine what your property would look like with a driveway make over using: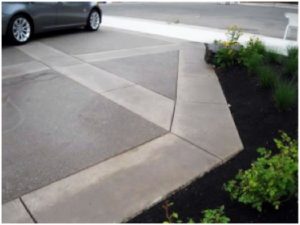 Decorative concrete: Like the durability, price and easy maintenance of concrete, but can't stand the thought of a big gray flat slab in your front yard? Concrete has come a long way, baby. These days it can be colored, embedded with stone or aggregate, stamped, or shaped for a driveway as beautiful as it is tough. Try mixing two colors or textures and don't limit yourself to the usual ho-hum rectangle. Use different geometric shapes or curves to create greater visual interest.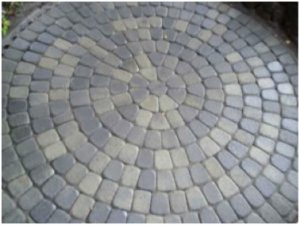 Geometric designs with pavers: Elegant options abound when you choose pavers, which come in a huge variety of colors, textures, shapes, designs and materials, and allow for intricate layouts. Create a free-flowing look by curving your driveway around landscaping features and add a dramatic circular medallion in the center. Or, put a fresh spin on old designs using different shades of pavers in a tumbling blocks, harlequin, or Greek key pattern.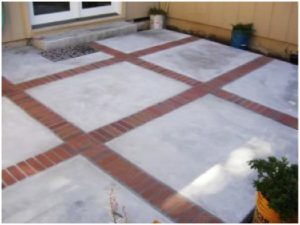 Brick bands and borders: The rich color and small size of bricks make them a superb choice for creating borders around, and accent bands through, other paving material. Frame the driveway in a row of bricks—or two rows in contrasting colors. Use a grid, striped, or wavy pattern of bricks to break up the uniformity of plain concrete. Install brick walkways on each side of the driveway. Or, build brick curbs to give depth to your driveway design.